Want support to develop your research and teaching?
We can help.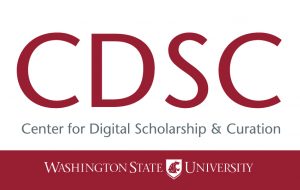 Summer 2017 Fellowship Opportunities
With support from the Libraries and the College of Arts and Sciences, the CDSC is offering a limited number of six-week summer 2017 fellowships, available to faculty and graduate students at the WSU Pullman campus.
What is the CDSC? The Center for Digital Scholarship and Curation facilitates and sustains digital scholarship, research  and teaching at WSU. Our mission is to promote socially engaged and ethically minded uses of technology as part of long-term partnerships across disciplines and communities.
Fellowship details: Fellowships provide faculty and graduate students with a partial stipend for projects that incorporate digital tools, technologies, or platforms in research or teaching. No prior experience or technical expertise is required. The fellowship will include structured time at the CDSC where our staff will provide hands-on support to help you implement the project.
Applications, due March 28, 2017, will include a brief project description and statement of interest. For more information about the CDSC and past fellows, please visit our website. To apply for the fellowship, please complete this online form.